adventures
Find your Boulder
You know the expression 'something for everyone'? 
It was probably invented for Boulder.  With 300 days of sunshine and 145 miles of trails, it's an amazing place to discover on foot. Check out the hustle and bustle of downtown's Pearl Street, or chill out at one of the 40+ yoga and meditation studios. Culture vultures will love CU's thriving live music and film scene, or you can keep things low-key with a drink at one of the many craft breweries or dinner at one of the incredible restaurants. See? We told you: something for everyone!
" In every walk with nature, one receives more than he seeks" -John Muir
Everyone is Welcome!
Boasting more than 145 miles of hiking/biking trails, the world's largest urban bike park and unparalleled rock climbing located at the foothills of the Rocky Mountain Range. Boulder is uniquely located to provide a once in a lifetime physical adventure for all adventurers, beginners to experts alike.
Boasting 4 blocks of locally-owned boutiques, art galleries, cafes, bars and restaurants, Pearl Street is a beautiful pedestrianized hub in the historic heart of Boulder. Take a stroll and check out the funky, eclectic shops housed in historic turn of the century buildings.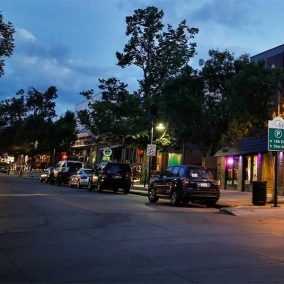 The go-to hangout for UC students, The Hill is a hip neighbourhood with everything from one-of-a-kind boutiques to hookah lounges to bike shops to art supply stores (and pretty much everything in between!)
A premiere outdoor shopping centre, the Twenty Ninth Street mall is an upscale shopping destination with over 100 retailers, restaurants, a 21- screen theater and family games located throughout the mall for an impromptu game of giant checkers or jenga!
Named recently as one of five "Secret Foodie Towns" by Forbes Magazine.
"Boulder may have a reputation for snow bunnies and tapping the Rockies, but there's much more happening here than ski-lifts and beer. Flagstaff House Restaurant is a Forbes Travel Guide Four-Star establishment and Boulder staple for fine cuts of meat and perfectly prepared seafood. Chef Corey Buck recently opened a breakfast and lunch restaurant called Food at the Riverside, serving delicacies such as lobster Benedict, quiches and fresh salads, along the city's only patio overlooking Boulder Creek. For a happy hour that won't quit, try Bramble & Hare. Everything from the restauranteur's organic 130-acre farm is $5 in the 5 o'clock hour: small plates such as country pâté and an artisan cheese plate, beer, wine, and cocktails, too. And local foodies won't let you leave until you know that Boulder is also home to five out of the country's 118 master sommeliers. Boulder's not just for skiing, folks. Not anymore."